The following is a brief account of events leading to the action in which Lieut. Richard Been Stannard, an ex-merchant officer and a member of the Royal Naval Patrol Service, won the Victoria Cross during the Norwegian campaign in WW2.
In the Spring of 1940 a British Expeditionery force was sent to aid the Norwegian resistance to the German landings in Norway. HM Trawlers Arab, Gaul and Angle formed, with their leader HMT Aston Villa, comprised the 16th A/S Striking Force under the command of Lieut.-Commander Sir Geoffrey Congreve, which was sent with other groups to reinforce the Naval effort.
On 28th April HMT Arab was on patrol with her sister ships of 15th and 16th A/S Striking Forces in Namsen Fjord. Her commanding officer, Lieut. Richard Stannard, RNR, had before the war been First Officer with the bigger ships of the Orient Line. He was well used to trawlers, however, because as a member of the Royal Naval Reserve he had been trained in them on anti-submarine and minesweeping duties.
Some 5,000 troops had been landed at Namsos and supply ships were arriving and unloading their cargoes of ammunition and other essential supplies under almost constant air attack. These stores were left on the pier and any available space on the waterfront. The tasks alloted to the trawlers included ferrying troops ashore and assisting the supply vessels wherever needed as well as giving defensive fire to the bombing aircraft.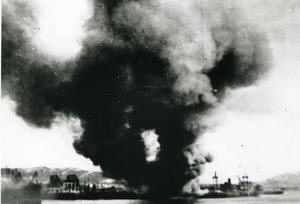 The rest of the account is probably best described by Lieut. Stannard's report to The Admiralty and the citation to his Victoria Cross.
( With grateful thanks to Forbes Wilson - http://www.royal-naval-reserve.co.uk/ and Olof Santesson - http://www.aff.a.se/ for parts of the content.)